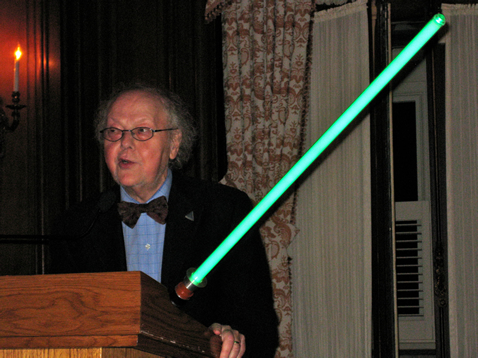 The National Center for Creative Aging and the Gerontological Society of America's Humanities and Arts Committee Honor Gene D. Cohen, M.D., Ph.D.
Whereas, Dr. Gene Cohen's pursuit of excellence in scholarship from his undergraduate days at Harvard to Georgetown medical school to the Union Institute exemplifies lifelong learning; and
Whereas, Dr. Cohen's seminal contributions to aging and mental health by serving as the first Chief of the Center on Aging of the National Institute of Mental Health, as Acting Director of the National Institute on Aging, and being the first Editor-in-Chief of the American Journal of Geriatric Psychiatry set a high standard for clinicians and have benefited countless older persons; and
Whereas, Dr. Cohen has been honored by many national organizations and institutes, including the Kent Award from The Gerontological Society of America, of which he is a past president, and First Place in the Blair Sadler International Healing Arts Competition from the Society for the Arts in Health Care, and his listing in Best Doctors In America, Who's Who In America, and Who's Who In The World; and
Whereas, Dr. Cohen by his founding the Center on Aging, Health & Humanities in 1994 at George Washington University, by his research and books on creativity and aging and the neurobiology of the aging brain's plasticity; and
Whereas, Dr. Cohen has championed the arts in aging as a complement to a long life well lived by his many appearances on such national television shows as ABC's Good Morning America and Nightline on which he was interviewed by Barbara Walters; PBS's MacNeil/Lehrer Show; CBS's Early Show and Nightly News, NBC's The Today Show and Nightly News; and famously in a series of public service messages with George Burns for which he was awarded a public service gold medal media award;
Therefore, on the occasion of a dinner at The Cosmos Club held May 29, 2009, The National Center for Creative Aging and The Gerontological Society of America announce that the first Gene D. Cohen, M.D., Ph.D., Award for Excellence in the Arts and Aging will be given at the 2010 convention and at each annual meeting thereafter in honor of the many accomplishments that Dr. Gene Cohen has made as scholar, physician, educator and leader in the field of aging.
Signed this day, the 29th of May 2009, in The City of Washington, The District of Columbia, by the chief executives of the aforementioned organizations, respectively.