Listen to Voice of America July 2010 on Levine Legacy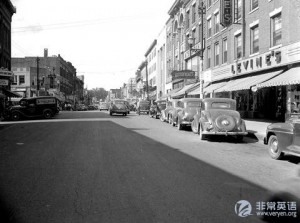 Legacy: The Levine Family – A recent family reunion is the opportunity for a Jewish family, with ancestors from Lithuania/Poland, who settled in Waterville, Maine over 100 years ago, to examine the cultural values that have passed on through the generations, and to discover the meaning of those ethics and values today. Through an honoring ceremony at Waterville's synagogue, several members of the Levine family explore the history of the founders of Levine's Store, a large clothing store that had been in business for 107 years. As well as documenting the central role of the store in the Waterville community, the film also highlights the role of women working in the family as keepers of the culture. Legacy conveys the family's contributions to the building and enrichment of community, and in so doing, tells the story of small town America's growth through immigration.
Colby College has archived Levine family materials as part of their Colby's Maine Jewish History Project as well as featuring the film at http://web.colby.edu/jewsinmaine/ including a virtual version of this spring's exhibition, Lobster and Latkes: Jewish Life in Maine.
Rabbi Kerry Olitsky posits in his book Sacred Intentions: What stories illustrate the core values that you want to pass on to future generations? It is not a novel or new question,, but is the charge each generation has to ask of itself, for the next. The deep and compelling desire to respond to the question is reflected in the diary of Glukel of Haneln, a seventeenth century Jewish woman who recorded a detailed diary for her descendants.
"I am writing down these many details, dear children of mine, so you may know from what sort of people you have sprung, lest today or tomorrow your beloved children or grandchildren come and know naught of their family."
Glukel of Hameln
With The Legacy Project, we can fulfill that generational calling in the 21st century using websites, books, films, artifacts and other digital media.
Goals for Legacy:
Continue to show film in a variety of settings
Use short in fundraising campaign
Raise funds for a larger film project on the cultural values of various immigrant family life and the relationship of those values to growth in small town America
Engage students for further research and web distribution of research on small town immigrant identity
Create opportunities for intergenerational communication on cultural identities
Contact
Wendy L. Miller
wendmiller1@gmail.com
1+ 301.962.6170
Bio