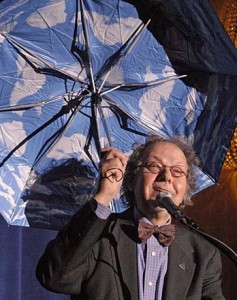 Sky Above Clouds: Finding our Way through Creativity, Aging and Illness Time
is an upcoming book by Gene D. Cohen M.D., Ph.D.
Wendy Miller
, Ph.D., ATR-BC, REAT, LPC
It's a common misconception that the aging mind is only capable of deterioration. In fact, just the opposite is true. Mature brains have not only been shown to be capable of remarkable growth, but also, with creative stimulation, to be even better at mastering new skills than younger adults. The benefits of a growing, elastic mind are far-reaching. Creative adults contribute to the vitality of their relationships and communities, ward off onsets of depression and anxiety, and also actively aid their own healing during times of illness.
Through their scientific research and clinical practice, husband and wife team Gene Cohen and Wendy Miller have uncovered new clues about how the aging mind can build resilience and continue growth, even during times of grave illness. Cohen, considered one of the founding fathers of geriatric psychiatry and author of several books on the aging mind, describes what happens to the brain as it ages and the potential that is often overlooked. Miller, an expressive arts therapist, artist, and educator, highlights individual stories of creative growth in the midst of illness and loss encountered through her clinical practice. Together, Cohen and Miller show that with the right tools, the uncharted territory of aging and illness can, in fact, be navigated.
Fitness trainers often talk about the benefits of "muscle confusion," the idea that overall fitness can be improved by continuously changing a workout. The same is true for the mind. Long-held routines and assumptions cause the mind to atrophy, while the process of learning new skills and self-reflection allow the brain to grow. But can growth continue during a health crisis? Cohen and Miller show us that not only can growth continue during illness, but that the process of being challenged by and learning from illness can actually assist in one's resilience and healing. As Georgia O'Keefe seemed to indicate in the title of her series of paintings created well into her 70's, despite age and illness, there is Sky Above Clouds.
Cohen, the scientist with a passion for art, and Miller, the artist with a passion for science, discovered that by combining their knowledge on the aging brain and the health benefits of creativity, a new paradigm on aging and illness could be created. But they are far from mere observers. Throughout the book, Cohen and Miller draw deeply on their own lessons learned as they struggle through aging, illness, and loss within their own family. Their work together takes on a new urgency as they navigate cancer treatment, parents with dementia, and eventually Cohen's own untimely death. What happens when the expert on aging begins to age? And what happens when the therapist who helps others cope with illness and loss is forced to confront her own responses to these experiences? The result is a richly informative and emotional journey of growth.
Contact
Wendy L. Miller
wendmiller1@gmail.com
1+ 301.962.6170
Bio